Arcadia Delicatessen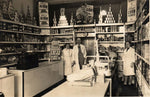 As the oldest retail business on the Lisburn road, the Arcadia is a local institution having operated from the same unit since 1933. The shop is currently in the ownership of Mark and Laura Brown, the third generation of the family to operate the shop.
Ellen Brown originally ran the shop as a bakery, it morphed into a general grocery store and then, when her son William took over, it began to specialise in more exotic foodstuffs from across Europe and the world turning it into the fine food emporium it is today.
2007 to present
Having taken over the shop from his father in 2006, Mark and Laura have completely refurbished it turning it into a multi award-winning business.
They have worked hard to position Arcadia at the heart of the local foodie scene by encouraging artisan food start ups by stocking their produce and establishing a strong personality amidst local foodies through food events and social media channels. In recent years a new confidence in the local food scene has seen an explosion in local products and The Arcadia is proud to be a showcase for local products alongside those from further afield.
Five years ago, Arcadia launched its first ecommerce website to bring our gift hamper expertise to a wider audience.
In 2023, The Arcadia celebrates its 90th Anniversary.
About: Supporting Local
Here at Arcadia delicatessen, we stock hundreds of local produce for everyone to enjoy. Supporting local producers is very important to us here in Arcadia as we believe connecting local businesses together creates stronger relationships and helps community well-being. Supporting local businesses has such a positive knock-on-effect to everyone involved. At Arcadia we source a lot of our stock from local producers all over the island of Ireland turning our Belfast delicatessen into a store where you can enjoy all the tastes of the island in one spot.Our Belfast deli based on the Lisburn road since 1933 has a unique range of products from lots of local producers.
-
Are you looking for the cheese deli near you ? At our cheese shop in Belfast we stock scores of local cheese,such as Ballylisk Triple Rose, Dart Mountain Dusk, Young Buck and Kearney Blue as well as lots from across Europe and across the world! Delights such as Irish Black Butter, Erin Grove chutneys, Zaks Bakehouse Sourdough Loaf, Delimuru Sugar Snap Biscuits and Ewings smoked salmon. Everyone here at Arcadia is passionate about providing only the finest products at the best possible prices. We are the fine food specialists.When you buy from Arcadia you are also helping to support local businesses too. Why not arrange a fine food delivery today?
About: E-Commerce website
Launching our ecommerce website has been vital in connecting Arcadia to both loyal customers, who have been coming to our delicatessen in Belfast for years and new customers, who may never have known of Arcadia's existence. We have been able to access homes from all over the United Kingdom and Ireland and bring the joy of Arcadia to people all over the country. Orders can be placed for delivery to homes in Ireland and the UK. Being able to deliver our produce to people's homes has been revolutionising in how Arcadia operates. When our delicatessen in Belfast was first established nearly 90 years ago, it catered for the locals of the area or passerbys. Who would've thought that some years later people all around the country would be able access what Arcadia has to offer with the click of a button and receive it on their doorstep the very next day. 
About: Customer Service
Here at Arcadia Delicatessen not only do we know that fresh, quality food matters and we are committed to delivering the best products to you at all times but we also know just how important customer care is. We value each and everyone one of our customers and will forever appreciate the support whether you are a first time buyer or a regular customer. Arcadia values how important our customers are to us and this is why we will always try our best to cater for special dietary requirements as well as allergies and intolerances when you order our hampers. We also offer tracked next day delivery if ordered by 10am as we know that efficient and fast service that can be followed closely puts customers minds at ease.
-
As a family business that has run for three generations and hopefully many more years to come, family values mean everything to us and for this reason our delicatessen store in Belfast has a reputation for providing excellent service and superb quality products for people who are passionate about food.
-
Do not forget to check out our famous hampers, amazing cheese boxes, or take a little time and check out the most unique food products you can find!
Recent Awards
Observer Food Monthly Best UK Independent Food Store Runner up 2013 / 2014 / 2015 / 2016 / 2017
Guild of Fine Food UK Top Ten Cheese Counter
Guild of Fine Food Top Ten Delicatessen in the UK
NI Deli of the Year 2019